How to sew a cosmetic pouch with a zipper: Easy step by step guide
Thursday, October 06, 2022
I find little pouches are always useful. For cosmetics, chargers, pencils, sewing utensils, first aid products… They help me organizing all the essentials I want to keep within easy reach. What's more, sewing a pouch is a quick and satisfying DIY project which is ideal for beginner sewists.
There are many ways to sew zipper pouches, but here is the way I like the most. This type is a wide, medium boxy pouch where you can see everything that is inside in a glimpse.
The only part that can be tricky for beginners is placing the zipper. But don't worry, once you get the hang of it, no more unthreading would be needed. Soon you will be able to make a pouch in less than an hour.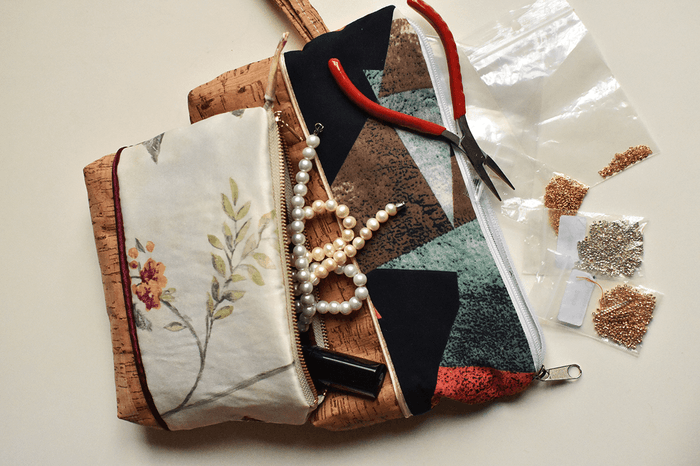 Material to sew a boxy pouch:
Fabric: I like getting rid of my fabric scraps by combining different fabrics or making patchwork. I also like adding cork to the base, decorative ribbons or passepoils.

Main fabric: two pieces of 27 x 18cm
Lining: two pieces of 27 x 18cm
Strap (optional): 10cm x 5cm

Fusible interfacing: for the main fabric to make the fabric sturdier, two pieces 26x17cm
Tips for zippers:
With metal zippers, always make sure you are not sewing over any metal teeth of the zipper, you would easily break a needle. Remove 1cm from each side of the zipper tape using pliers. When sewing the zipper to the main fabric, place it 1,5cm from the edge and tuck the zipper tape end (bend it 90 degrees).
Buying a zipper slider and zipper tape separately is often cheaper. If you have cut out the end of the zipper, hand-sew a zigzag stitch - you don't want to be putting the zipper back if it goes out.
Step by step tutorial to sew a pouch:
Prepare the fabrics. Cut the fabric, iron the fusible interfacing on your main fabric. If you are using more fabric pieces (cork and triangular fabric in the example), assemble them together.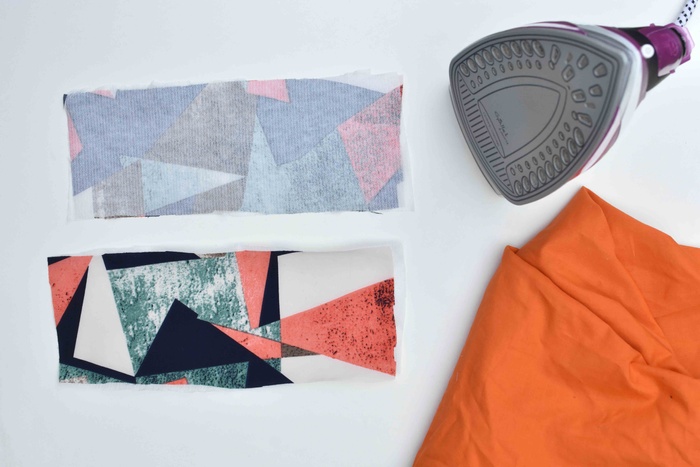 Prepare the strap if you want to add it later on.
Place and sew the zipper to the main fabric
Sew the zipper to one main fabric piece using a zipper foot - it allows to sew closer to the zipper. The zipper slider is facing the right side of the fabric.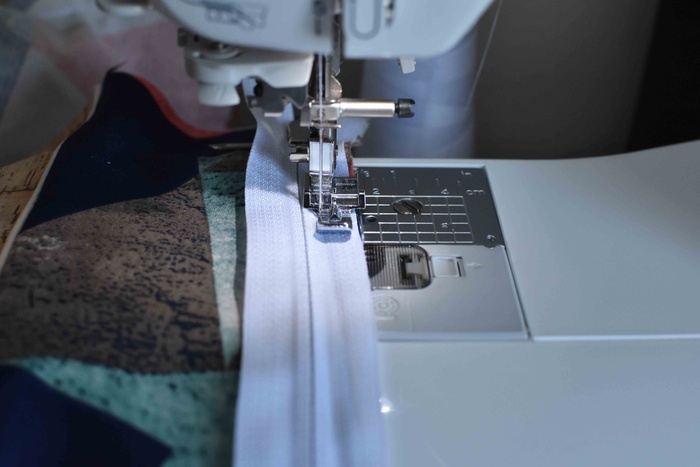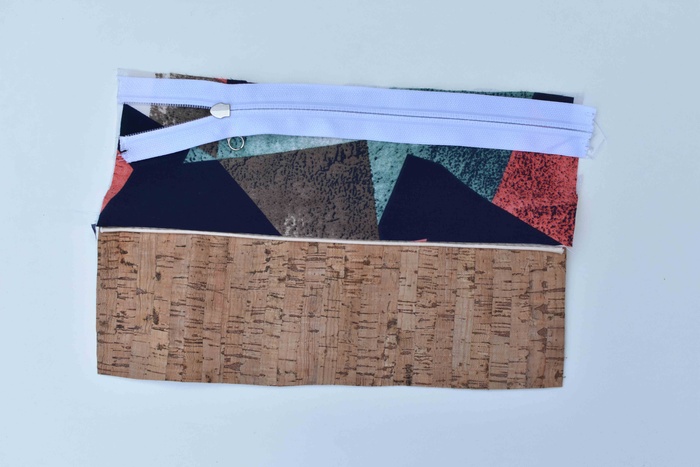 Place the second main fabric piece below the zipper and sew.